Resources
I often get questions from readers who want to start their own blog, and this resources page is for them!
It is important to note that this page contains affiliate links and we may earn a commission at no additional cost to you if you click through and make a purchase. This allows me to continue to provide free content, and I only share products that I use and love myself. Thank you for your support!
Before you even buy a domain or choose a theme (more on those later), I highly recommend you have a plan in mind for why you want to blog. What is your why? What is your motivation and who is your audience? Before you get too invested in the process, I recommend you read this post on Blogging Tips – How to Blog Without Burning Out.
If you're ready to pull the trigger on starting your blog, there are some things to consider.
Platform/domain – Blogger or WordPress?
Blogger is totally free and is pretty user-friendly, but there are lots of limitations on what you can do with your site. I started on Blogger and it worked for me for a few years. It is super user-friendly and built for people like me in mind. I am not the most tech-savvy person so I had to pay someone to switch my site over to WordPress when I switched to my own domain.
WordPress is a platform that most bigger sites use because there are so many options that come with the site. It does require you to buy the domain (.com) and pay for a host. There is a free version of WordPress as well, but you'll still need to learn the ins and outs of the system to make it work effectively.
Host
The host is the company that will make sure your site is up on the internet and everything is working correctly. You do not need a host if you use a Blogger site.
There are many options out there for hosts.
When I first started, I used SiteGround and they were wonderful for me. The customer service is incredibly fast and helpful. SiteGround is a great starter host because they have plans starting at $3.95 a month. Anyone starting out would want to sign up for the lowest level hosting plan. You can move plans within SiteGround as your page views grow. It tops out at $11.95 per month.
As my blog grew, I switched over to Cloudways. My site got faster and it was more affordable than Site Ground's higher-traffic plans.
Web Security
In January 2016 my site was attacked by some bots and it got shut down for multiple days. Annoying. SiteGround recommended Sucuri for my security, and I haven't had any issues since then.
Theme
A website theme refers to the appearance and functioning of a website. Think of it as how the site looks and works. It is essentially a template. If you use Blogger or WordPress, there are plenty of free themes available to anyone who is interested. If you want something personalized or unique, you may need to purchase a theme. For the third iteration of my site, I worked with Restored 316 Designs. They have many themes to choose from and they're very affordable.
Since I am not a tech wizard, I used (paid for) their services to set everything up for me. They were super fast and helpful and were great about answering questions.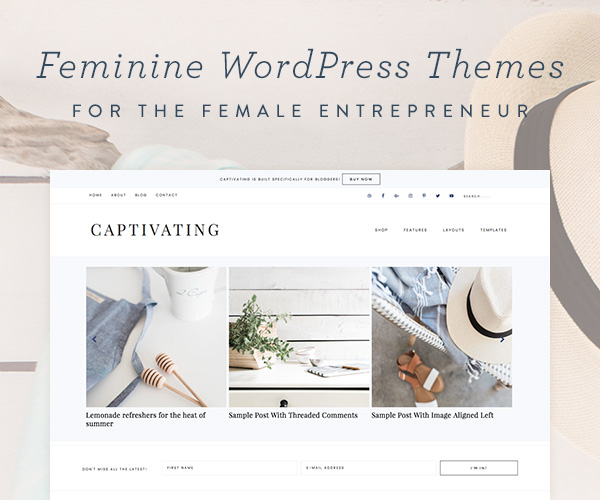 The current site you're looking at was a custom design by the lovely Lindsay at Purr. Purr built a site 100% from scratch for me when I felt like I had outgrown the ready-made theme. It took me seven years to get to a point when I felt that I needed a from-scratch site.
Education
I am a member of Food Blogger Pro which is a subscription site for bloggers. You learn lots of new skills and have access to a ton of resources. But, if it isn't in your budget, they also have a podcast which is incredibly helpful and free! I have learned an insane amount through the podcast and the guests they have to discuss blogging issues.
The ProBlogger podcast has also been a valuable source of information for me over the last year.
I use the free version of Grammarly to help check my spelling and punctuation on posts. It's not 100% and sometimes makes odd suggestions, but I do like it. I suffer from "acute-commaitis" and love me an Oxford comma. Grammarly keeps my overusage in check.
Photography
Photography is so important to blogging and it is one of the areas I struggle with the most. It is not remotely natural to me. Trying to take a picture to reflect the message I want to convey often results in pretty epic boob sweat.
I ended up buying a food photography ebook called Tasty Food Photography and it helped a lot. Click here to visit Pinch of Yum – Tasty Food Photography eBook.
I'm still learning and working on improving. I try to do a little bit better every single day. I did take a photo of an Orange and Chocolate Madeleine from what my friend affectionately referred to as "the poop cookie:
To "hey, I would eat that".
The book Food Photography: From Snapshots to Great Shots has also been helpful in getting me to think outside of the box.
I'm not yet at the point of needing/affording a super fancy camera though I do have one on my "someday" list. I currently use a Canon EOS Rebel. For me, it has worked well and is a great starter camera. I also use a macro lens for up-close shots. It is my primary lens for all food photos.
If you're on Pinterest, I highly recommend creating a board of photography. You can even make it a secret board if you'd like. Search Pinterest for tips on taking pictures, staging things, and even editing; it is a great free resource!
I also went to a food photography workshop hosted by Clare Barboza and that gave me so many wonderful ideas.
Social Media
There are so many social media channels out there and it can get super confusing. I say focus on what you know and what you want to accomplish. For most social media networks you can sign up for a business account. The business accounts give you access to analytics and data and are free. If you join Facebook, you can select "Artist, Band, or Public Figure" and then scroll down to "Blogger" under the business account options.
If you sign up for Instagram or Pinterest, I highly recommend using Tailwind. Tailwind allows you to schedule your posts/pins ahead of time so you don't have to do everything real time. I am able to schedule a month's worth of pins to Pinterest in under an hour.
In addition to helping you schedule out pins, you can also join tribes within Tailwind. Tribes are groups of like-minded bloggers who share content with each other. Pinterest prefers it and thus rewards you with more visibility when you share quality pins with your followers. Tribes are a wonderful want to get access to quality content.
I use the Social Warfare plug-in to make it easy for people to share my content on various social media channels. It does this by having hover over buttons that are unobtrusive on each post. Social Warfare inserts itself into the body of the post when you're writing it in draft mode and lets you control which photos are shared. It also allows you to personalize the message and title of what is shared across social media.
I create the social media banners on Canva that I use in Social Warfare. Canva is totally free and very user-friendly.
When I got serious about Pinterest, I realized my boards and account were a hot mess. I worked with Simple Pin Media to get everything cleaned up and reorganized. Since working with them, my Pinterest followers have grown by almost 650. It isn't out of control-insane growth, but it is steady and consistent. Kate from Simple Pin also has a super helpful free weekly podcast about Pinterest strategies. Her advice is practical, doable, and produces results.
Make sure your readers know how to find you on social media by having icons linked to your accounts on your main page. You may also want to use a pop up like Milo Tree to encourage/remind readers to follow you on social media. If you go the pop-up route, make sure it has settings to allow you to not be annoying and redundant. For example, I use Milo Tree, but I have it set up to not hound my readers if they already follow me on Pinterest. And if they don't? It would only remind them every 10 days that it is an option. Nobody likes daily reminders!
Rebranding
After seven years under "Frugal by Choice, Cheap by Necessity", I knew it was time to put that name to rest. It no longer really spoke to my life and even just telling people the name of it in real life was a mouthful. It was time to move on. Rebranding isn't as easy as it sounds, and I purchased an ebook from Erin at Well Plated to walk me through the process.
We are a participant in the Amazon Services LLC Associates Program, an affiliate advertising program designed to provide a means for us to earn fees by linking to Amazon.com and affiliated sites.